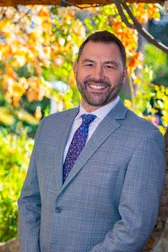 Since he began his career in 1994, Dr. Rector has won many awards, including Chiropractor of the Month (2006) from the Chiropractic Leadership Alliance, Best Chiropractor of Monterey (2015, 2017), and Reader's Choice, Herald's Chiropractor of the Year (2015, 2016, 2017, 2018). The awards are a testament to his integrity and hard work as a doctor. He truly cares for his patients, always providing thorough and attentive care. It is no surprise that Dr. Rector has patients that have been seeing him since he opened his practice over 20 years ago. He is an expert in holistic health care for patients of all ages and lifestyles.
Recently, Dr. Rector has also launched a new business consulting company, In8Coach. He coaches and mentors new doctors and business owners in their ventures to creating a successful practices based on building rapport with patients.
Visit www.in8coach.com for more information about Dr. Rector's business consulting.
Education:
1984 - 88Bachelors of Science of Health and Physical Education(Norwich University Military College of Vermont Northfield, VT)
1993Doctor of Chiropractic(Palmer West College of Chiropractic San Jose, CA)
Licensure:
1993License of Practice, California Radiology (x-ray)
1993License of Practice, California State Board of Chiropractic Examiners
Professional Affiliations and Achievements:
1990-PresentMember, International Chiropractic Association
1998-2000President of Monterey Chiropractic Society
2012 to 2014President of Monterey Peninsula Chiropractic Society
March 2005Chiropractic Leadership Alliance Chiropractor of the Month
2015, 2017Voted Best Chiropractor in Monterey County by the Monterey Weekly
---
What My Patients Say!
Dear Friends,
When I initially considered coming to see Dr. Rector, I was apprehensive. I wasn't sure that what I was dealing with he could do anything about. Nevertheless, after the first visit, all my fears were put to rest and gradually there were signs of improvement.
You see, I have full-blown AIDS. I was diagnosed in December of 1992. On the offset, there appeared that visiting a chiropractor would not help. Much to my surprise, Dr. Rector has been supportive in the totality of my health. You see, when I began seeing "Brian", I was dealing with horrible side effects of the medication. Dizziness, leg pains, headaches, diarrhea, blurred vision, and very low T-cell count, (just to name a few). In fact, my T-cell count was only 17 when I first started visiting Dr. Rector. He shared with me an article regarding the change that was possible with spinal alignment. I read the article not expecting that what it said, would make any difference in my own health, but here it is almost two months into seeing Dr. Rector and remarkable things are happening. To begin with, all the side effects of the meds are gone, the dizziness and the diarrhea stopped almost immediately, and best of all, the T-cells that I thought I would never see, are at an all-time high of 594. I am still living with HIV/AIDS, but things look different now. I don't look at this illness as a death sentence or even as a curse. It has become just another challenge in the scheme of things. I attribute my increased numbers and positive outlook on the quality care I get that pays attention to my back. More importantly, I appreciate the fact that this Dr. pays attention to more than just my back. But, making sure that my back is properly aligned means that the rest of me is in tune, also. My mental health is better, my physical health is better (even after back surgery to repair some damaged vertebrae), and my future looks brighter than it has in some time.
I will be forever grateful to Dr. Brian and to his staff who go above and beyond providing the quality care needed to survive in this day and age. I don't care if you have HIV/AIDS or whatever your particular situation is, getting your back aligned here, could be the beginning to a whole new world. I am certain that James Taylor sings it best when he says, "When you are down and troubled, and you need a helping hand, and nothing, nothing is going right...YOU'VE GOT A FRIEND!" Dr. Rector certainly has proven that he is a friend, but a doctor, too. I am blessed to know him and grateful for everything that he has done to make my life a much better place to be. Sincerely,
- James T.
---

My neck pain and dizziness are gone.
- Loneta N.
---
Dear Dr. Rector:

I don't know how to express the appreciation and gratitude I have for you for all that you have done. You may remember the first day I came to your office, I had the exam results of a blood test which showed that I had been diagnosed with hypertension, high cholesterol and under active thyroid. I then had an exam by you and I immediately felt the confidence needed to combat my problems. I than began treatments with you, in which you described the importance of the nervous system and the role Chiropractic plays in balancing you health and giving the body a chance to heal itself. Immediately after the first adjustment I could feel a change occurring. This was the beginning of mine and the rest of my families return to health.
Since June 1997 I have been coming to see you, I wanted to let you know I have been following your instructions and with out any medications, I have returned to normal. I recently received the results from my new blood test and everything came back normal. My blood presure, thyroid and cholesterol have returned to a normal state. I also wanted to thank you for the balance you have helped create in the family. My son with his skin condition, which no one new what it was has had remarkable results, my daughters anxiety and headaches, and my husband, no more complaining about his aches and pains.
For all this DR. Rector I want to say thank you from the bottom of my heart, for all you have done. God bless you and your family. OH, by the way, we'll see you next week.
Jaebok Y.
---

I am grateful to Dr. Brian Rector and his friendly staff for the favorable turnaround my life is taking this year...The consistent treatments I have experienced this year have provided me with excellent results. For the first year as long as I can remember, I have sailed through this last allergy season with flying colors...My new energy level also allows me to face each day with so much more hope and, reason to be the best I can be and return to the volunteer work that I enjoy, thanks to Dr. Brian and his friendly, helpful staff.
Eileen B.
---

Dear Brian:
I want to express my appreciation for the 2 years of improved health and mobility your chiropractic care has given me...Two years ago, before coming to you, I found making a living increasingly difficult because of arthritis in an old back injury from the Vietnam war. I was having to use a cane to get around and was experiencing much pain and loss of mobility...At first I was hesitant to come to you for chiropractic care because I had all the old biases against it, learned from years of A.M.A. propaganda. Thankfully I did come because within 2 or 3 visits I began to feel a remarkable difference...So please know how much your chiropractic skill has helped me. I have you to thank for a greatly improved quality of life.
Phillip B.